Find a Quick Quack Car Wash Near You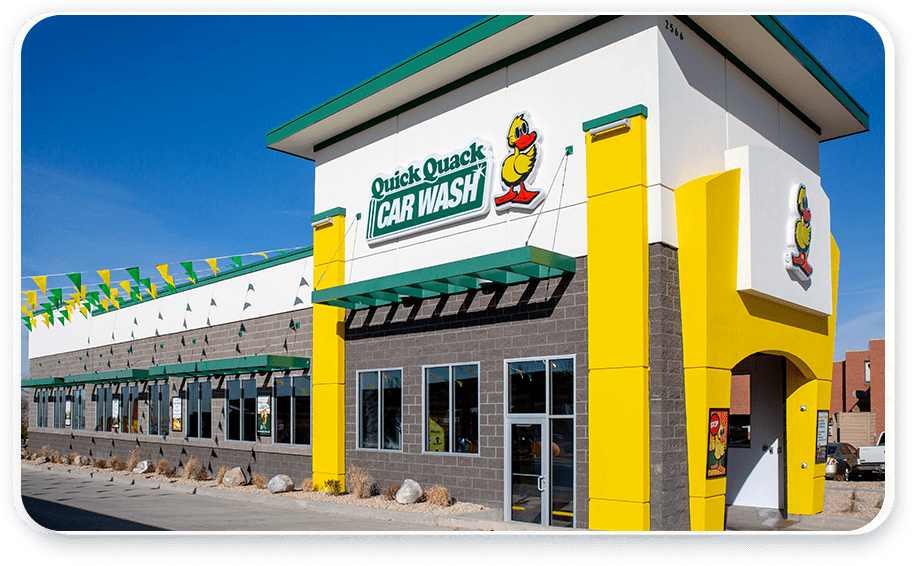 Are you looking for a quick and easy way to locate the nearest Quick Quack car wash? Don't worry, that's what we are here for. We will provide you with a fast and simple way to find a Quick Quack car wash near you. Simply use our interactive map below to see all the available locations near you. This is your go-to spot to find all kinds of car wash locations. Our systematically optimized maps will show you your desired car wash location instantly. Locate the most convenient way to get to a quick quack car wash location and treat your car to a speedy wash.
How to Find a Quick Quack Car Wash Near Me?
Locating a convenient and less busy car wash near your location can be a bit challenging, but with our help, it will be much easier.
Simply scroll down to our interactive map below and voila, all the quick quack car wash locations will be on your fingerprints.
You must ensure that you have activated the location services and GPS on your device to get accurate results on the map.
If the map isn't already zoomed in on your location, adjust the view and zoom in on your current location to see nearby Quick Quack car wash spots.
Click on any location to find out more details about it like Quick Quack car wash hours, prices, offers, and contact information.
How to Find a Quick Quack Car Wash in Another City?
If you are looking for a car wash in a different area or city, you can use the same map to find it.
Simply touch and drag the map to your desired location. You can zoom in or out for your convenience.
As soon as you arrive at the location, all the Quick Quack car wash locations will pop up on the map magically. See, it's not difficult at all. 
Quick Quack Wash Locations
As of June 2023, QuickQuack have been operating in about 149 locations all around USA. California contains highest number of locations i.e. 37 followed by Utah at 27 locations far. If looking at city-wise numbers, Sacramento has 9 active dontdrivedirty locations followed by Phoenix with 8 live car washes. Below are some of the most used Quick Quack Car Wash locations:
| Location | City | State | Zip | Latitude | Longitude | Country |
| --- | --- | --- | --- | --- | --- | --- |
| 1471 Holiday Lane | Fairfield | CALIFORNIA | 94534 | 38.259253 | -122.0679614 | UNITED STATES OF AMERICA |
| 1180 E. Park Street | Hollister | CALIFORNIA | 95023 | 36.8441085 | -121.3932016 | UNITED STATES OF AMERICA |
| 1341 S Providence Center Drive | Cedar City | UTAH | 84720 | 37.6540755 | -113.0872924 | UNITED STATES OF AMERICA |
| 540 West State Street | Hurricane | UTAH | 84737 | 37.1768312 | -113.3005837 | UNITED STATES OF AMERICA |
| 1284 W Sunset Blvd | St. George | UTAH | 84770 | 37.1237546 | -113.6138705 | UNITED STATES OF AMERICA |
| 5001 Walnut Road | Vacaville | CALIFORNIA | 95687 | 38.385263 | -121.935085 | UNITED STATES OF AMERICA |
| 849 Davis St | Vacaville | CALIFORNIA | 95687 | 38.3478855 | -121.9876318 | UNITED STATES OF AMERICA |
| 1300 Prairie City Rd | Folsom | CALIFORNIA | 95630 | 38.6560214 | -121.1712565 | UNITED STATES OF AMERICA |
| 7145 Watt Avenue | North Highlands | CALIFORNIA | 95660 | 38.6970913 | -121.3854528 | UNITED STATES OF AMERICA |
| 4301 Madison Ave | Sacramento | CALIFORNIA | 95842 | 38.6272556 | -121.3499817 | UNITED STATES OF AMERICA |
Quick Quack Car Wash Membership
The car wash offers unlimited membership packages to allow you to enjoy easy enrollment, multiple convenient locations, and additional saving possibilities. Don't worry these memberships do not ask for any long-term commitments. The best part about these memberships is the multi-car discount pricing that allows you to add up to four additional cars from your household to your membership. So, before you get on your way to the nearest Quick Quack car wash, make sure you are ready for the most amazing membership plan of your life. There are three Quick Quack car wash packages available in the membership plan: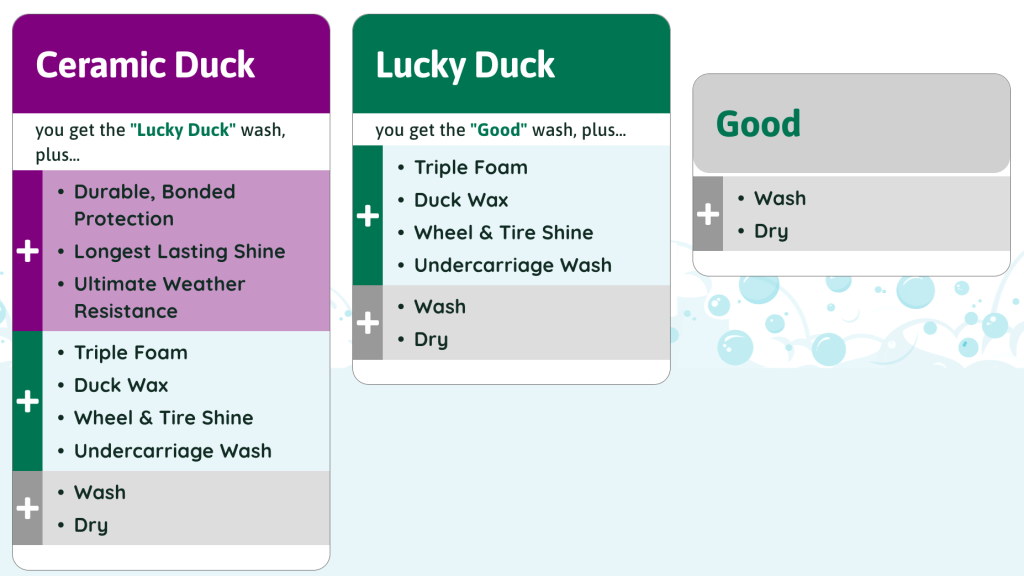 Good
The good membership plan offers you a simple wash and dry. It is the cheapest membership in Quick Quack car wash prices.
You can easily get this plan with the minimum amount and save some money as compared to getting a regular car wash.
Lucky Duck
This is a specialized Quick Quack car wash membership that allows you to get some special privileges.
In addition to the services included in the Good category, you get Triple Foam, Duck Wax, Wheel & Tire Shine, and Undercarriage Wash. These services make your car look squeaky clean.
Ceramic Duck
This is the most premium Quick Quack car wash membership. It provides you with platinum-level care of your car, which will turn it into a supermodel.
In addition to the services that you get in the "Good" and "Lucky Duck" plans, you will get some additional premium services.
These services will include Durable and Bonded Protection, Longest Lasting Shine, and Ultimate Weather Resistance.
These premium-level services ensure that your car won't be needing another wash anytime soon and will keep its shine for days to come.
Benefits of Quick Quack Car Wash Membership
There are 5 major benefits of getting this membership.
You will get discounted pricing for multiple cars which means one membership will work for a whole family.
You don't have to make any long-term commitments. You can cancel your membership at any time.
With a membership, you can drive in and out of any Quick Quack car wash location easily. There will be faster service and exclusive membership perks.
You will be able to save tons of money on your car washes.
You will also get access to multiple locations near you, some of which are only exclusive to members.
Frequently Asked Questions
Who created Quick Quack car wash?
Jason Johnson is the founder of the company. He started this car wash while he was in grad school. It turned out to be a successful project and soon spread all over the country.
What is the Quick Quack car wash motto?
"Fast. Clean" is the motto of Quick Quack car wash. It is a simple motto that clearly conveys the message. They provide quick and efficient cleaning services.
Is a car wash from Quick Quack worth it?
Yes, it is a renowned car washing brand that has satisfied customers for years now. Many people prefer this car wash because of their premium quality services and exclusive perks to the members.
Can I get a car wash without a membership?
Yes, you will get a car wash from Quick Quack even without a membership, but it will cost you more. Membership allows you to save tons of money on car washes. Also, you will get access to premium locations and perks.
Below is a FAQ video from a colleague at QQ incase you have any unsolved queries:
Wrapping Up!
Finding the nearest Quick Quack car wash is not challenging anymore. We provide you with the perfect way to find everything you need to know. Our interactive map helps you find the nearest car wash locations in your area. Click on any location to read the customer reviews, and get other information including hours, pricing, and contact details. Once you find the right car wash that is convenient for you, you can find the quickest directions to it using the map. Good Luck!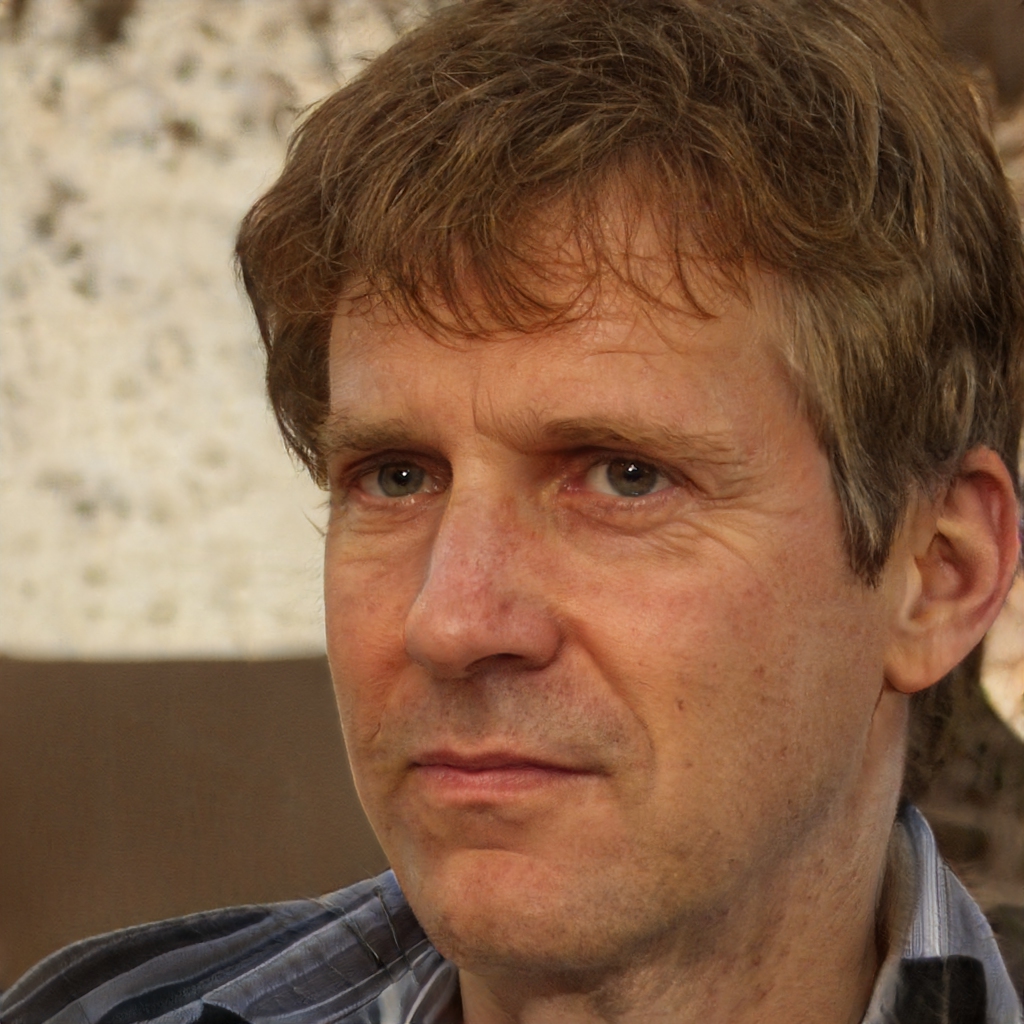 Glenn is a highly skilled and knowledgeable expert in car maintenance and modification. He runs the popular blog incarwash.com, which is dedicated to everything related to car washing and maintenance. This comprehensive resource provides valuable information and insights on a wide range of topics, including the best car wash products, tips and tricks for keeping your vehicle looking its best, and the latest innovations in car washing technology.